If you're seeking such blooms, thinking about flower delivery options, or searching for a local florist, finding the right bouquet can lift their spirits.
A Get Well Soon Flower delivery is the perfect gesture when someone is feeling under the weather. If you're seeking such blooms, thinking about flower delivery options, or searching for a local florist, finding the right bouquet can lift their spirits. To express your support and warm wishes, we'll explore how to choose the perfect Get Well Soon Flowers.
Pay attention to the recipient's preferences
Get Well Soon Flowers come in a wide array of colors and varieties, making it essential to consider the recipient's preferences. Consider their favorite shades and the types of flowers they enjoy. If you're uncertain, opt for vibrant and cheerful blooms that instantly brighten their day. A mix of colorful flowers can bring joy and positivity to their surroundings.
The importance of symbolic meanings
Symbolism plays a significant role in flower language. When selecting such flowers, it's essential to remember the symbolic meanings associated with different blooms. For someone recovering from illness or surgery, flowers can convey messages of hope, healing, and love. For example, daisies represent innocence and purity, while lavender symbolizes calm and serenity. Flowers from florist Preston in Evanston IL with meaningful symbolism can help convey your heartfelt wishes.
Be aware of allergies and sensitivities
In order to choose flowers for a sick person, it's essential to consider the recipient's allergies and sensitivities to pollen. Opt for varieties low in pollen to prevent discomfort or allergies. Some suitable low-pollen options include tulips, roses, and sunflowers. These blooms that you can easily order from flower delivery Wheaton IL are not only vibrant and beautiful but also less likely to trigger adverse reactions.
Invest in long-lasting varieties
When sending hospital Get Well Soon Flowers, it's wise to select easy-to-maintain varieties. Hospital staff may not have time to care for delicate blooms, so choose hardy ones. Chrysanthemums, orchids, and carnations are excellent choices in this regard. These flowers can brighten the patient's room throughout recovery, providing comfort and cheer.
Vases and containers to consider
Consider the container or vase in which the flowers for a hospital patient will be delivered. Opt for a vase that is easy to handle and fuss-free. Clear glass vases are a popular choice because they allow the recipient to enjoy the bouquet's beauty while monitoring the water level. Additionally, they can be easily cleaned and reused, serving as a lasting reminder of your thoughtful gesture.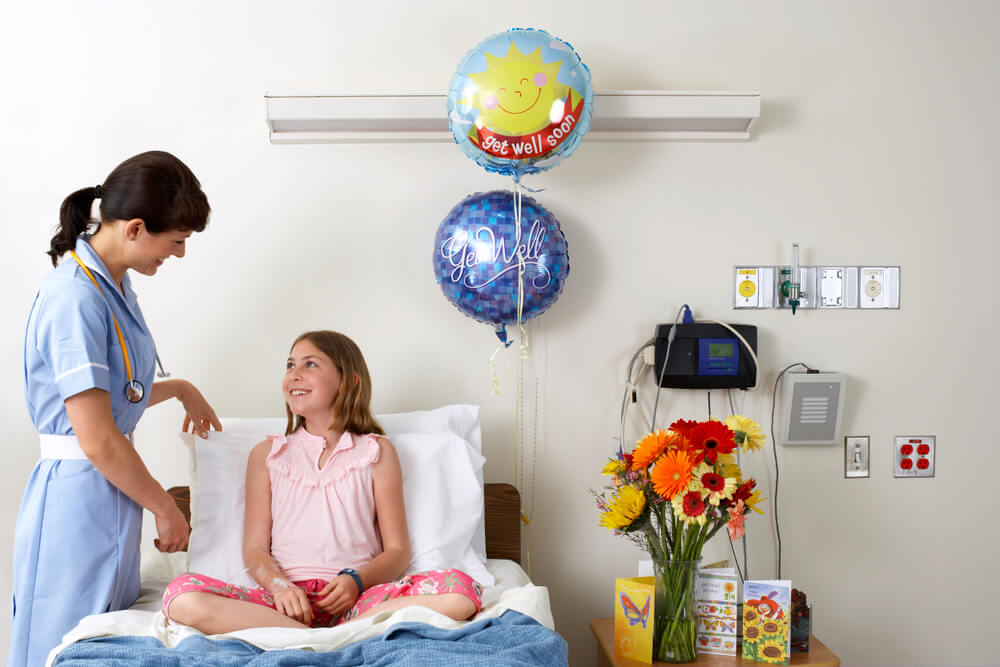 Size Matters
Size matters for Get Well Flowers. In a hospital room with limited space, a large, extravagant arrangement may not be practical. On the other hand, a small, compact bouquet can be perfect. You should choose a size that complements the recipient's room before making a hospital flower delivery. A moderately sized arrangement can be eye-catching without overwhelming the space.
Add a personal note
Make your Get Well Flowers even more special by adding a personal touch. Consider including a heartfelt note or a sympathy flower card with your bouquet. Express your well-wishes and let the recipient know you're thinking of them. Your words of comfort and encouragement can provide much-needed emotional support.
Rely on a Reliable Florist
Finally, select a reputable florist or Get Well flower delivery Evanston IL service that offers high-quality blooms and reliable delivery. A reliable florist will ensure fresh and vibrant flowers when they reach the recipient. Make sure the bouquet arrives promptly to brighten their day by choosing a delivery option that suits your needs.
An encouraging bouquet can bring comfort, joy, and encouragement to someone going through recovery. You can show your support and care in this heartfelt way. To learn more, go to www.prestonsflorist.com.